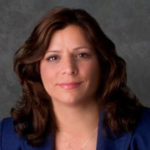 Nina Plaushin is Vice President, Regulatory, Federal Affairs and Communications for ITC Holdings Corp. Ms. Plaushin has more than 20 years' experience in managing government and regulatory policy at the federal and state levels. She is responsible for the company's federal and regional regulatory functions along with its corporate communication and marketing functions. She also heads the Washington, D.C., office and is responsible for federal affairs activities. Prior to joining ITC, Ms. Plaushin served as Vice President of External Affairs at WPPI Energy, a regional power company serving 50 customer-owned electric utilities in Wisconsin, Michigan's Upper Peninsula and Iowa. In this capacity, she was responsible for federal and state government relations activities for the company as well as corporate communications. She was Director of Government and Regulatory Affairs at Wisconsin-based American Transmission Company, which included regulatory oversight of the company's environmental and permitting functions. Ms. Plaushin also served as Manager of Federal Regulatory Affairs at PPL, an investor-owned utility headquartered in Allentown, Pa., in its Washington, D.C., office.
Ms. Plaushin assisted a variety of energy and environmental clients as Vice President at Hill & Knowlton, one of the largest communications consulting firms in the world, and Van Ness, Feldman & Curtis, a DC-based law firm. Before entering the private sector, she worked for several members of Congress including Senator Lowell P. Weicker, Jr. (R-CT), Senator Spark Matsunaga (D-HI), and C. Thomas McMillen (D-MD).
Ms. Plaushin holds a Bachelor of Arts degree in political science from Drew University in Madison, New Jersey. She serves as Chair for the EEI Energy Delivery Executive Advisory Committee, Secretary of the WIRES group, and is a member of the Keystone Energy Board. Ms. Plaushin also is a member of the Advisory Council, Center for Public Utilities Council, New Mexico State University College of Business.