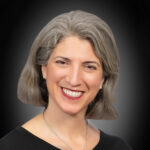 Christina Hayes is Vice President for Federal Regulatory Affairs for Berkshire Hathaway Energy, the parent company of MidAmerican Energy Company, NV Energy, and PacifiCorp, as well as interstate pipelines and independent renewable resources. An energy regulatory attorney for nearly 20 years, Christina helps Midwestern and Western utilities navigate FERC, NERC, and other federal agencies.
Prior to joining Berkshire Hathaway Energy, Christina was an attorney with the Federal Energy Regulatory Commission, serving in the office of general counsel, the western division of the office of energy market regulation, and as an advisor to Chairman Wellinghoff. While at FERC, Christina worked on a variety of issues, from transmission development to mergers and market power issues to credit reforms in organized markets. A native Oregonian, Christina has also served as an administrative law judge at the Public Utility Commission of Oregon, presiding over mergers, rate cases, and rulemakings, advising state commissioners, and drafting final decisions.
Christina earned a law degree from the University of Oregon and a bachelor's degree from the College of William and Mary. Her early career also includes stints in the U.S. Senate and House of Representatives on Capitol Hill, as well as work for judges on the U.S. Ninth Circuit Court of Appeals and Oregon Court of Appeals.