Transmission Time: National Security Benefits of Electric Transmission
April 4 @ 3:00 pm

-

4:00 pm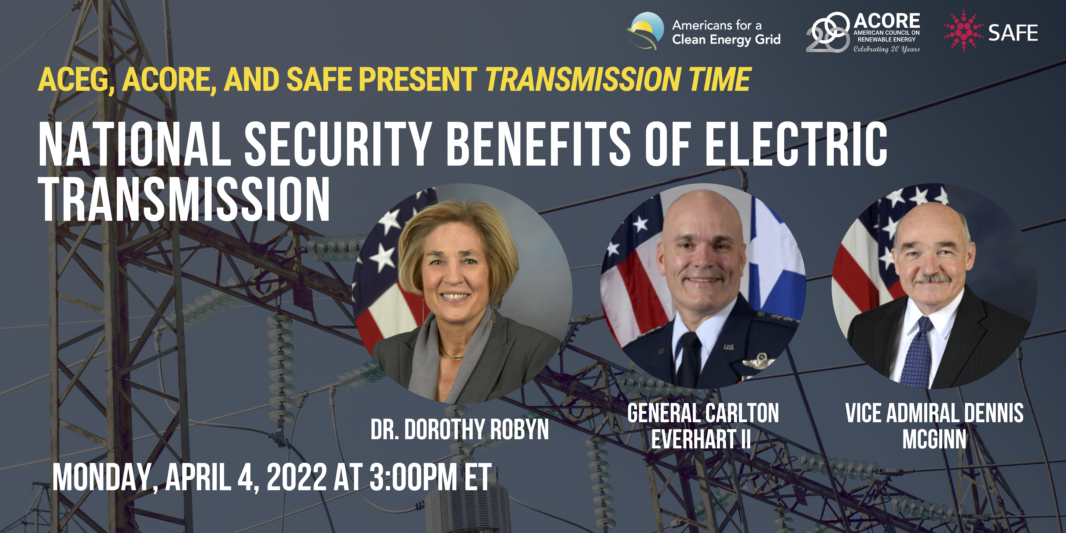 On Monday, April 4th, from 3-4 pm ET, ACEG, ACORE, and SAFE hosted a webinar with retired military leaders and senior defense officials for a discussion on the national security benefits of a more robust, reliable, and resilient electric system.
In recent years, the U.S. has experienced more frequent and severe extreme weather events, highlighting the need for greater grid resiliency. Moreover, Russia's invasion of Ukraine has prompted new concerns about security and serves as a reminder that accelerating the pace of electrification of the U.S. vehicle fleet and renewable energy deployment can reduce the nation's dependence on global fossil fuel markets, which can be subject to unpredictable price spikes and the influence of unsavory autocratic leaders. Enhancing resilience will require a more robust transmission grid. This event also examined the electricity-related dependence of U.S. military facilities on surrounding communities.
Speakers included:
General Carlton Everhart II, Commander, Air Mobility Command (Ret.); Member, SAFE's Energy Security Leadership Council; President, Everhart Strategic Consulting Group
Dorothy Robyn, Ph.D., former Deputy Undersecretary of Defense for Installations and the Environment; former Commissioner, Public Buildings Service, U.S. General Services Administration (GSA)
Vice Admiral Dennis McGinn, U.S. Navy (Ret.); former Assistant Secretary of the Navy, Energy, Installations, Environment; former President and CEO, ACORE
View a recording of the event here.