Transmission Time: Long-Distance Transmission, Reliability, and a Clean Energy Future
March 16 @ 1:00 pm

-

2:00 pm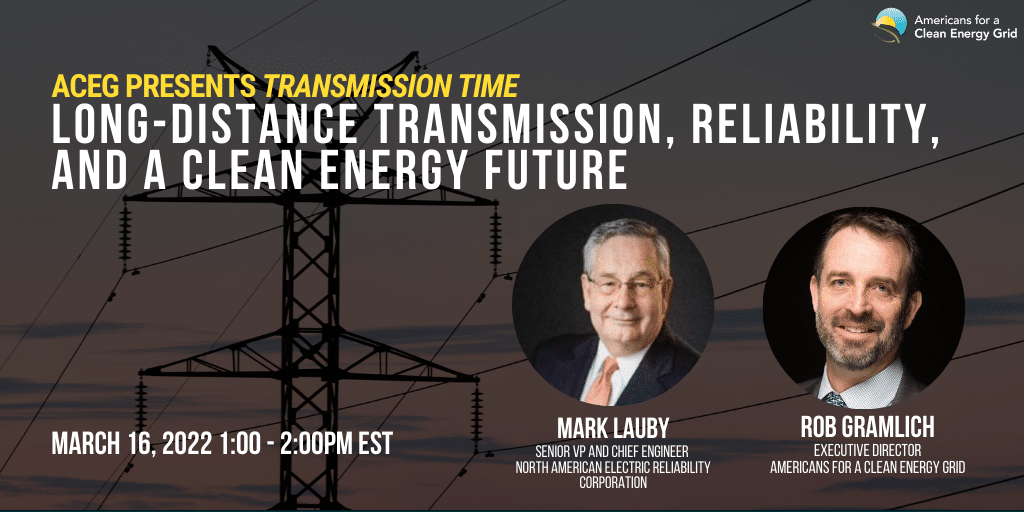 On Wednesday, March 16th from 1-2pm EST, Americans for a Clean Energy Grid (ACEG) hosted an installment of their Transmission Time webinar series, "Long-Distance Transmission, Grid Reliability, and a Clean Energy Future."
The 21st century requires greater reliability and further electrification of our economy to achieve a clean energy future. The build-out of more long-distance transmission can enable the development of renewable energy resources over wider geographic areas and move excess power from resource areas to reach locations of major electricity demand.
This webinar explored the importance of long-distance transmission in supporting our nation's grid reliability and what policymakers and the public should know about the environmental and economic benefits of transmission expansion. The webinar featured a presentation from Mark Lauby, Senior Vice President and Chief Engineer at North American Electric Reliability Corporation (NERC). Guest commentators included: Alison Silverstein, Independent Consultant, Alison Silverstein Consulting; Julia Matevosyan, Chief Engineer, Energy Systems Integration Group; Michael Goggin, Vice President, Grid Strategies.
The event was moderated by ACEG Executive Director, Rob Gramlich. 
Download the presentation slides here. View a recording of this webinar here.