Transmission Time: The Role of State Transmission Authorities
October 26 @ 1:00 pm

-

2:00 pm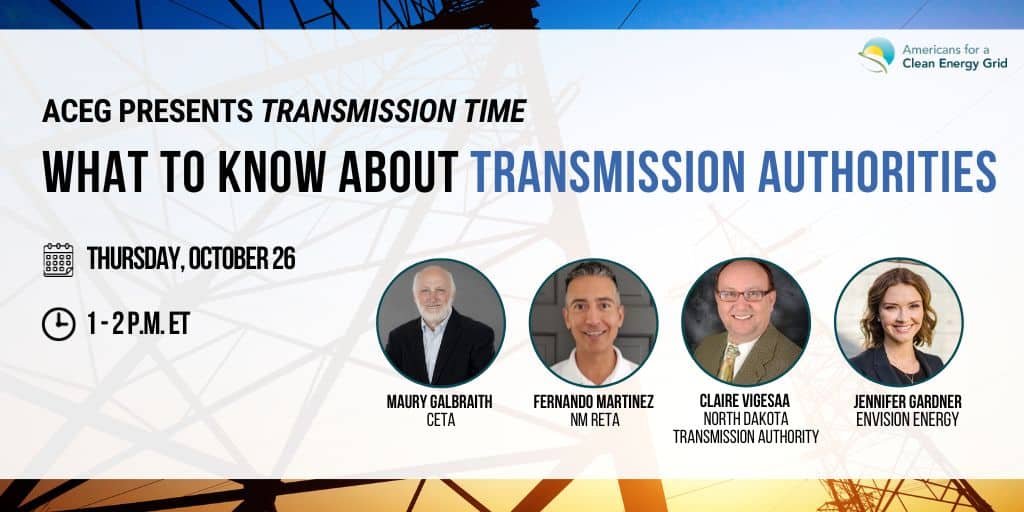 Across the country, several state legislatures have formed "transmission authorities" to help facilitate the siting and financing of new lines.
These entities can help states develop the transmission needed to connect new resources and ensure reliable, low-cost electricity for all their residents. In this webinar, leaders of transmission authorities from Colorado, New Mexico and North Dakota discussed how these bodies work, what the benefits are, and who's involved. We also explored whether there are opportunities for collaboration between different state authorities.
Featured speakers include:
Maury Galbraith — Colorado Electric Transmission Authority (CETA)




Fernando Martinez — New Mexico Renewable Electricity Transmission Authority (NM RETA)




Claire Vigesaa — North Dakota Transmission Authority

Moderated by Jennifer Gardner — Envision Energy
View a recording of the event.