Transmission Time: Transmission Funding Opportunities
September 21, 2022 @ 1:00 pm

-

2:00 pm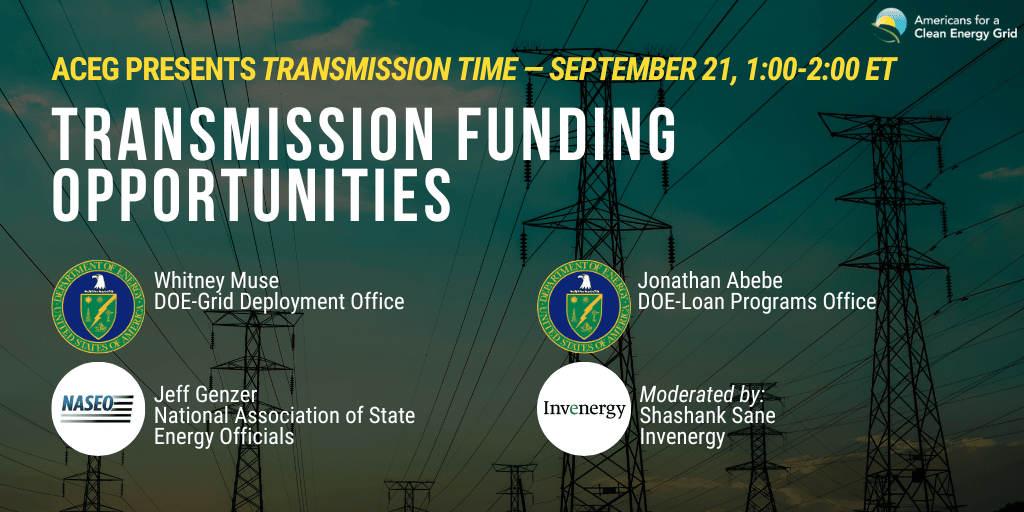 On Wednesday, September 21, ACEG hosted a Transmission Time webinar exploring funding opportunities for transmission projects.
Recent federal legislation, including the Inflation Reduction Act (IRA) and the Infrastructure Investment and Jobs Act (IIJA), established several new revenue streams to support the needed build out of transmission. Panelists from the Department of Energy's Grid Deployment and Loan Programs Offices walked through the funding programs they oversee, including the transmission facilitation and tribal funding programs. Plus we heard from the National Association of State Energy Officials (NASEO) about the role states can play in working with utilities and transmission developers to benefit from these funds and reduce the cost of transmission projects.
Featured panelists include:
Whitney Muse — Chief of Staff, DOE-Grid Deployment Office
Jonathan Abebe — Senior Technical Advisory, DOE-Loan Programs Office
Jeffrey Genzer — General Counsel, National Association of State Energy Officials (NASEO)
Moderated by Shashank Sane — EVP for Transmission, Invenergy
You can download slides from the Loan Programs Office presentation and the Grid Deployment Office presentation. And you can view a list ACEG compiled of IRA and IIJA-supported funding opportunities here.