Transmission Time: How Transmission Keeps the Lights On
March 22 @ 1:00 pm

-

2:00 pm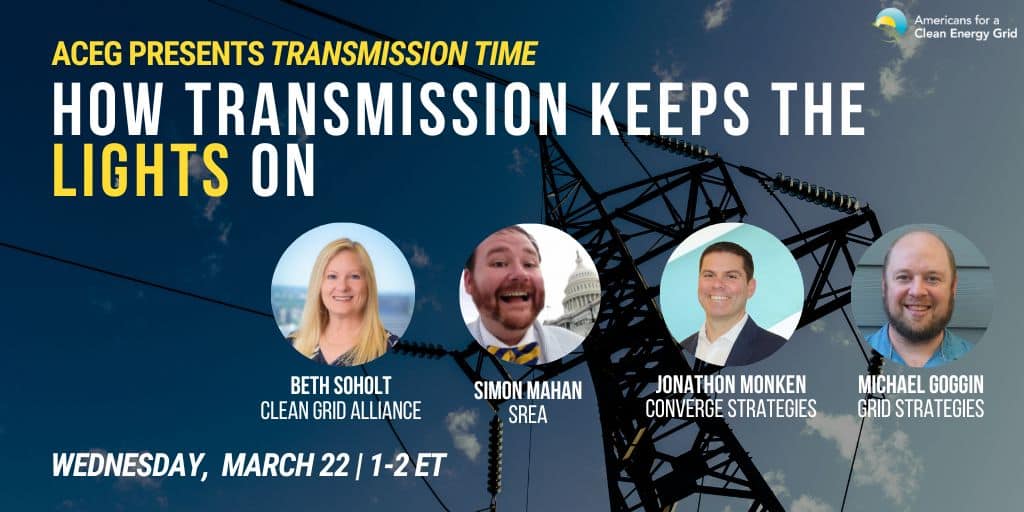 On Wednesday, March 22, ACEG hosted a webinar on the vital role transmission plays in preserving grid reliability.
Nearly all aspects of modern life depend on reliable electricity. But the U.S. has fallen far behind when it comes to building a grid capable of supporting our current and future needs.
As extreme weather events — from heat waves to winter storms — become more frequent and the demand for electric power — from cars, home heating systems, and more — steadily grows, transmission plays a vital role in preserving grid reliability.
Our panelists explored how an expanded network of high-capacity power lines can provide access to geographically diverse and cheaper energy sources, helping to keep the lights on both during temporary system shocks and under everyday circumstances. We also discussed how grid operators, regulators, and policymakers can better integrate anticipated future demands into their planning, to ensure the transmission system meets our needs for years to come.
Featured speakers included:
Beth Soholt — Executive Director, Clean Grid Alliance

Simon Mahan — Executive Director, Southern Renewable Energy Association

Jonathon Monken — Principal, Converge Strategies

Moderated by Michael Goggin — Vice President, Grid Strategies
View a recording of the event here.