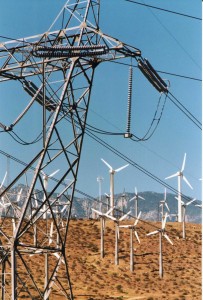 The U.S. Department of Energy released its 2011 Strategic Plan on Wednesday, May 10th. The plan is a comprehensive roadmap for America's energy future that examines the need to invest in the United States' energy infrastructure to transition away from the fossil fuels of the past to the clean, renewable fuels of the future. The plan specifically mentions the need to work towards President Obama's stated goals of:
Reducing energy-related greenhouse gas emissions by 17% by 2020 and 83% by 2050 (from a 2005 baseline);
Generating 80% of America's electricity from clean energy sources by 2035; and
Putting one million electric vehicles on the road by 2015.
"There is compelling evidence that carbon-dioxide emissions from human activities are adversely affecting the climate," Secretary of Energy Steven Chu writes in the introduction. "Any path close to 'business as usual' will imperil future generations with dangerous and unacceptable economic, social, and environmental risks. The conventional use of fossil fuels is a major source of these emissions… As part of prudent risk management, our responsibility to future generations is to eliminate most of our carbon emissions and transition to a sustainable energy future."
To accomplish these goals, significant investments in the U.S. electric power grid are needed. According to the Strategic Plan, the Department of Energy is partnering with the electric transmission industry to study and improve the way the grid operates by installing more than 1,000 synchrophaser measurement units by 2013, installing 26 million smart meters by 2013, and reducing the cost of utility-scale power storage by 30% over the next four years. The report also details efforts to better integrate variable renewable resources into the grid, a significant, but not insurmountable, obstacle to large-scale renewable energy deployment.
To view the report, click here.